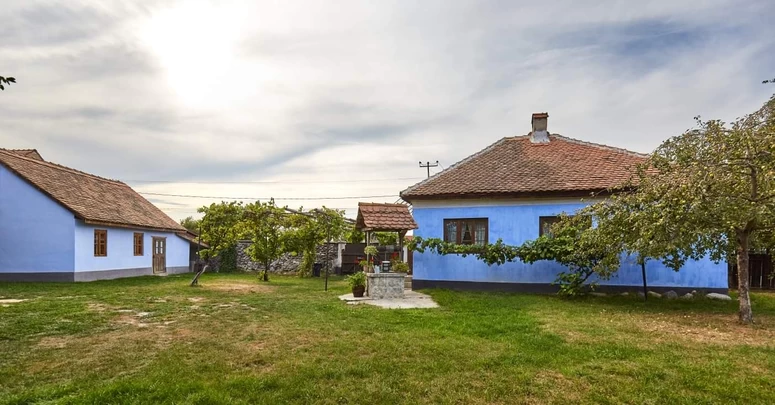 DESCRIPTION

How do I get there
A trip back in time. Two authentic Romanian houses in the same yard, down the valley, towards the edge of the village Porumbacu de Sus, where, on the blue paint from the main facade, along the street, two pairs of windows with shutters frame the Orthodox symbol of the cross. Under each shutter, a cartouche of floral adornments complete the decor of the house.
This is where you can relax, enjoy nature and the wonderful view of the mountains, and you can also eat local food; every evening you can watch the herd of animals from the village and you can admire all that the village has to offer day by day: traditions, beautiful people, strong feelings, stories, costumes and old cloths forgotten in dowry boxes. The houses were restored in a traditional style, reminding us of the vacations spent at our grandparents' homes.
All the rooms have old Transylvanian furniture, and most textiles in the houses were handmade by our grandmothers and aunts. The houses have a very generous yard with a hammock, a terrace with a traditional bread oven, wood stove and grill, where you can eat.
Pets are welcome.
Access: by car, pedestrian, mountain-bike.
Latitude
45.717812440822925
Longitude
24.474240128193742